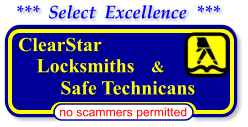 Security Survey Checklist:
As a service to the public, the following Security Checklist can help
in preparing for a consultation with your local Security Professional.

( A Vacation or Traveling check-list follows the 5-Step Plan )
---
5 Step Prevention Plan
STEP 1 - LIST ALL VALUABLES
In addition to listing it is recommended that you etch all property in two places with your drivers license number and the state abbreviation. EXAMPLE: KY 1000000

For nondescriptive articles such as jewelry, coins, antiques, etc.;

Photograph the articles.
List the information needed on the back of the pictures.
Once you have completed the information, store this document with other important papers in a safe place.
---
STEP 2 - DOOR & WINDOW SECURITY
All exterior doors should be secured with the following:
Quality single cylinder deadbolt, with 1" throw, for solid doors.
Quality double cylinder deadbolt, with 1" throw, for glass style doors.
190 degree peephole or interviewing grill to view front.
Hinge studs for the hinges.
Heavy-duty lock strike with 4" screws.
All casement and louvered windows should be secured with the following:

Casement lock device.
Louver window "S" style anti-movement device.
Security grill bars.



All sliding glass doors should be secured with the following to prevent vertical and horizontal movement:

Anti-lift devices.
Patio security pin.
Keyed patio door lock.
Charlie bar.



All wood style windows should be secured with the following:

Keyed sash window lock.
Ventilation window lock.
Wood or metal rods in window track.



All metal style windows should be secured with the following to prevent vertical or horizontal movement:

Anti-lift devices.
Thumb turn locking devices.
Keyed sliding window locks.



All garage doors should be secured with the following:

Heavy duty padlock covering.
Garage slide bolt.
Quality padlock for the garage slide bolt.
Cane bolt on the lower inside center into cement floor.
---
STEP 3 - LIGHTING
For cost effective exterior & interior security, the following is recommended:


For exterior lighting;

Place 40 watt bulb at the front entrance, 60 watt bulbs at back & side entrances.
In addition, place flood lights under eave corners.


For interior lighting;

Place lights & timers in rooms that would give the appearance of normal living habits.
Radios and TV's can be tied into the timer circuits also.
---
STEP 4 - SMOKE ALARMS & SAFES
For additional self-assurance, the following is recommended:


Place smoke detectors where you and family members can be alerted quickly.
Secure valuables and important documents in a fire-rated safe, or fire proof safety deposit box.
Keep a fire extinguisher on each floor of your home and be sure each family member can use it.
Keep any firearms in a safe vault.
---
STEP 5 - ADDITIONAL SECURITY STEPS
Place emergency numbers near phones.
Lock outside power and fuse boxes.
Trim shrubbery to provide good visibility.
Join the neighborhood awareness programs.
If you live alone, be sure that exterior mailbox name plates conceal that fact.
Inform a trusted neighbor when you are going to be away for any length of time.
Also, inform the newspaper delivery service, milkman, post office, etc.
Never open a door without knowing who is there.
Do not admit strangers.
Be alert to strangers in your neighborhood. Jot down license numbers, car descriptions & description of person(s).
For extra protection, install a burglar & fire alarm system.
For additional window protection - install wrought-iron bars, but only with panic exit releases.
---
Preventative Steps 1-5, and a consultation with your local Association Security Professional, will go a long way in keeping you, your loved ones and your property from becoming another crime statistic.
---
Vacation or Traveling Plan
BEFORE YOU LEAVE
1. Have your vacation planned out. Know where you are going and where you should be at certain times.


2. Take phone numbers of relatives or friends with you in case of emergencies that arise.


3. Make sure you pack flashlights and flares in your travel kit.


4. Inform only a trusted neighbor and police of your travel plans. Then they can watch your home while you're gone.


5. Don't leave extra keys under door mats or flower pots. Instead, give them to the trusted neighbor watching your home.


6. Stop deliveries, such as milk, paper and mail.


7. Make provisions for someone to cut your lawn.


8. Have your neighbors check the inside of your home daily and change the position of window coverings every few days.


9. Keep records of the serial numbers of each major valuable purchased with you or in a safe place. (Photo or engrave)


10. Use electric timers that will automatically turn interior and exterior lights on or off.


11. Double check all windows and doors for total security. Secure all areas of weakness before you leave.
WHILE TRAVELING
1. Don't leave your keys with parking attendant.


2. Carry a smoke & intrusion alarm with you while staying in a motel or hotel.


3. Lock car doors at all times.


4. Do not leave valuables (camera, money, jewelry, etc.) in hotel room or exposed in your vehicle.


5. Witness all repair work of your vehicle, if necessary and possible.


6. Don't flash money or valuables around. Carry small dollars and change, etc.


7. Don't let strangers borrow your property.


8. Don't leave children unattended while shopping or when going out for a short time.


9. Carry a portable travel lock for additional security at hotel doors.
WHEN YOU RETURN
1. Check all doors and windows to be sure no intrusion attempts were made while you were away.


2. Make sure everything is in its right place.


3. Start deliveries again.


4. Let neighbors know you are home.


5. RELAX!
---