At the time this award was presented I was taken completely by surprise. So much so that I was literally, speechless. Had I the presence of mind to say something beyond my meager "thank you", it would have been this...
"I feel greatly honored to be considered for this wonderful award. However, I can accept it only by acknowledging that I am doing so on behalf of those who have actually made it possible.
I'm speaking of the one thousand plus Members of ClearStar Security Network. It's only through their generosity of spirit and means that the grand experiment we've come to know as ClearStar has succeeded so well.
The members have brought out the best among us by their unselfish sharing of technical information and life experiences. Because of them, Locksmiths and Safe-Techs across this country and around the globe can advance their skills and professionalism 24 hours a day, 7 days a week.
They have made ClearStar into not only an ongoing technical treasure and resource but perhaps more importantly, a friendly and caring community.
I'm proud to be a part of it and happy to accept this award on their behalf. I never met Mr. Connelly, but it's clear he was one of GPLA's very finest. I feel sure that as a Pioneer himself, he would have been an encouragement to the ClearStar community even as is this award in his memory.
Many thanks to the GPLA for their tremendous contributions year after year to the security industry and those who labor in it. The GPLA's foresight in creating these annual awards is an ongoing inspiration. We owe them a great debt of gratitude for both the historical continuity and elevation of our industry these awards cultivate."
Jay E. Long, Founder
ClearStar Security Network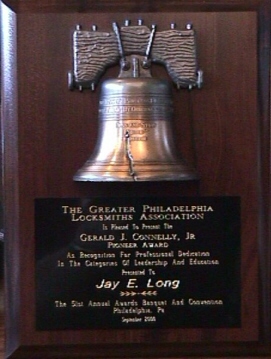 text on the plaque...
THE GREATER PHILADELPHIA
LOCKSMITHS ASSOCIATION
Is Pleased To Present The
Gerald J. Connelly, Jr.
PIONEER AWARD
As Recognition For Professional Dedication
In The Categories Of Leadership And Education
Presented To
Jay E. Long
********
The 51st Annual Awards Banquet And Convention
Philadelphia, Pa.
September 2000